"I'm thrilled with the feedback I've received on the Darcy Farthing adventure series. The books can each be read alone so you don't have to start with the first in series. Of course, many readers like to start at the beginning of the journey. This series has thought-provoking humanist and contemporary themes, topical social issues, and fascinating characters in exotic locations."
Arleen Alleman is a former senior analyst with the Government Accountability Office where she wrote extensively on many topics ranging from satellite systems to endangered species. She describes herself as a generalist because of a variety of interests and professional experiences, including fashion model, insurance adjuster, trainer, government analyst, songwriter, jewelry artist, boutique owner, and writer/speaker. She has a science education, primarily in biology, but loves everything having to do with science and nature.
Along with fitness, her interests include reading, travel, and the study of religious history. Traveling by cruise ship has inspired her cruise-related fiction. In 2002, she retired from the GAO and searched for the next thing to pursue. She began to build a custom design jewelry business working with pure silver clay. "Working with the earth's beautiful metals, gems, stones, pearls, shells, and wood, and turning them into wearable pieces of art was extremely uplifting and satisfying."
In 2005, after selling her silver jewelry creations at The Barn in Castle Rock, CO and at art shows and galleries, she decided to open her own shop in a coop of 20 shops in the hundred-year-old building. In  2010 she realized a life-long dream with publication of her first novel, Currents Deep and Deadly. She closed her shop to concentrate on writing.
Then she had the unfortunate experience of a breast cancer diagnosis followed by ten months of treatment. She says, "I've emerged only somewhat scathed from that ordeal. I guess this begins the next stage in my evolving life journey—or riding this current to the end, as my character Darcy Farthing would say."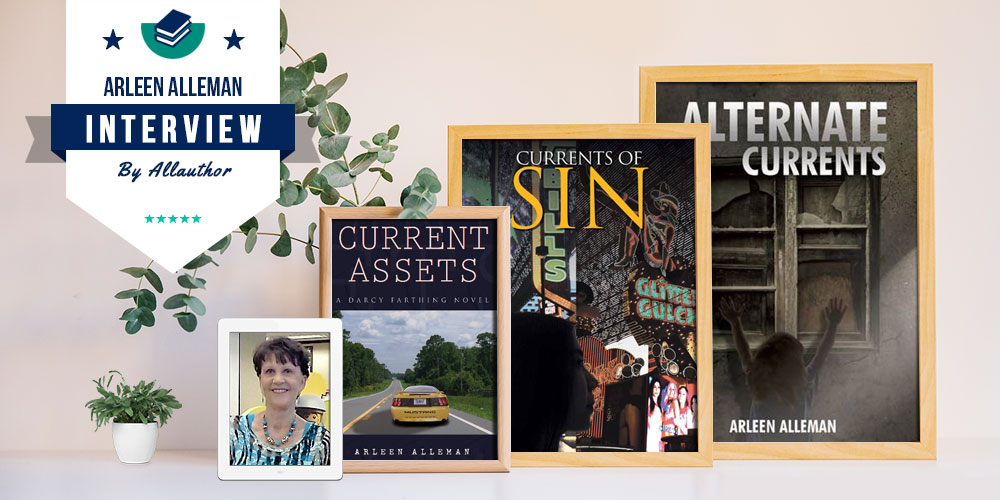 Having worked as a fashion model, insurance adjuster, jewelry designer, and proprietor of a home decor shop, author Arleen Alleman was a very independent active child. She has been writing for forty years, including much non-fiction technical writing for the government. At around age fourteen, she read a number of mysteries and continued to read the genre throughout her life. Over time, she has learned to develop better dialogue, which is very important in fiction writing.
The author believes that one should write because they love it and want a sense of accomplishment. Read full interview…
"I'm writing for you and I welcome your feedback. You can contact me and if you leave your email address, I'll let you know about anything new with me or my writing. I send only a few emails a year." –Arleen